DATELINE: AUGUST 2023 – NEWS FROM ROUND TOP. In case you aren't in Texas, just know that it is too hot! Temps are averaging in the low 100s these days, and The White Barn (next to The Compound) will be closed for the remainder of the summer. Check back for news about re-opening in the fall. Remember that the Round Top Antiques and Design Center is open Wednesday – Sunday, year-round. Stay cool, y'all!
DATELINE: SPRING 2023 – IT'S THAT TIME AGAIN! Bluebonnets are just about everywhere, and you know where to find them – and find antiques, too! Please visit Brocante when you are in Round Top for the spring shows. We'll have wonderful inventory and great show prices just waiting for you!
DATELINE: WINTER 2023 – IS IT SPRING YET? As anyone in the Tennesssee area can tell you, this is the place to be in early February. Anyone who loves antiques and gardens will agree! Shopping at its best is at the Nashville Antiques and Garden Show, and Brocante will be waiting to see you.
DATELINE: FALL 2022 – IT'S ROUND TOP TIME! What fun it is to shop 'til you drop, and Round Top is the place to do this. Visit Brocante French Antiques for great show prices on authentic French antique furniture, accessories, custom lighting, pottery, copper, and more. Find Brocante at the Round Top Antiques and Design Center and at the big white Fickle Barn at the Compound Antiques Show.
DATELINE: LATE SUMMER 2022 – "FALL" INTO A GREAT SALE! Now until the end of August, Brocante inventory priced $100 and above will be discounted a cool 20% at Round Top Antiques and Design Center in Henkel Square!
DATELINE: SUMMER 2022 – COOL SUMMER SHOPPING WITH BROCANTE! We have just returned from a successful shopping trip across the pond. France has again yielded many treasures just for you. We are now unpacking French "smalls" and they will be heading to one of our locations in Round Top. Come find your treasure at Round Top Antiques and Design Center in Henkel Square.
DATELINE: SPRING 2022 – ALL ROADS LEAD TO ROUND TOP! It's time for Round Top's Spring Antique Shows. Take a look at Brocante's French antiques that you will find, by clicking on each image below.
DATELINE: SEPTEMBER 16 – 30, 2021 – BROCANTE WILL SEE YOU IN ROUND TOP! What a tradition it has become, traveling to Round Top in the fall! Come see our latest French finds at two locations this fall. Again, Brocante will be at The Compound and at the Round Top Antiques and Design Center. Come see what we have for you!
DATELINE, SEPTEMBER & OCTOBER – BROCANTE'S LATEST EUROPEAN CONTAINER IS UNLOADED, AND FALL WEATHER IS JUST AROUND THE CORNER . . . You know what this means: it's showtime! Brocante's show spaces will be packed with the Parnells' latest finds from France and other European countries, all hand-picked with you in mind. Furniture, accessories, custom lighting and architectural elements, too. Be sure to check out the show schedule on our Locations page.
DATELINE: Happy Bastille Day! It's July 14, a National Day in France celebrating a turning point in the French Revolution. This date celebrates the birth of a new nation of values and ideas rooted in liberty, equality, and fraternity. Just for fun, we have added a few photos from our recent buying trip to France.
Check back soon for photos of inventory that we found on our trip and will be bringing to you at future shows.
DATELINE: Round Top just keeps growing, and so do we! Please follow us to our two venues when you are shopping the Spring Antiques Show. Our spaces are overflowing with wonderful European furniture, accessories, art, custom lighting, and much more.
DATELINE: It's time for the Round Top Winter Antique Show! Find Brocante at TWO venues for this show. We will be in the Stables Barn at The Compound, located two miles from Round Top on S. State Hwy 237.
We will also be (this is NEW!) in the newly opened venue, Round Top Antiques & Design Center. You can shop here year-round, Wednesday – Sunday.
DATELINE: Thanks to the Nashville Antiques and Garden Show for posting about us in late November. Here is what they said about Brocante French Antiques on their Instagram page:
DATELINE: Finally, it's Round Top time, October 17 – 31!
Brocante is excited to be back at The Compound at Round Top, and we look forward to seeing you! Safety measures will be in place, including social distancing and wearing masks for shoppers and dealers.
For authentic French and European antiques and furnishings, with show prices you'll love, look for Brocante in the Granary Barn toward the back of The Compound. For a map and more information about the show, please click here.
DATELINE: When you are ready to go shopping… think Brocante!
DATELINE: NEWS ABOUT THE ROUND TOP SHOW
DATELINE: TIME TO RENEW AND REFRESH!
A new year and a new decade mean that it's time for you to refresh and renew! To assist you in your 2020 decorating adventures, Brocante is showing in three top venues this spring. We hope you will find yourself near one of the following areas: Nashville, Tennessee. . . Lexington, Kentucky. . . or Round Top, Texas.
Learn more about these premier shows by visiting our Locations page. Click here, and we hope to see you soon.
Happy 2020 from the Parnells and our "antique" dachshund Louie!
DATELINE: IT'S ROUND TOP TIME!
If it's fall, it's Round Top time, and Brocante hopes to see you at the show. We will be selling again at a popular venue, The Compound, and we are bringing exciting new inventory from our recent trip across the pond. Our large space in the Granary Barn at The Compound will feature antique French and other European furniture, polished copper, architectural elements, baskets, custom lighting and more!
Louie, your favorite rescue dachshund, looks forward to seeing you, too, and he even has his favorite picks that you'll love.
DATELINE: SUMMER 2019
This summer has been busy for the Parnells! Along with their usual summertime activities, Martha and David have been combing the countrysides, villages and cities to find the best antiques and furnishings for you. After all, it may be hot outside now, but autumn will come soon and that means the fall antique show at Round Top. Stay tuned!
DATELINE: MARCH 2019
It's time for Round Top and a birthday celebration! Martha and David Parnell – and their pup Louie – are pleased to be bringing Brocante to the Compound this spring.
For more information about this popular antiques venue, please click here.
DATELINE: EARLY SPRING 2019
We are waiting for warmer weather, but the current cold snaps are not stopping Brocante! We have great new inventory sure to please. Look for us in Nashville soon… AND be sure to mark your calendar for the spring show in Round Top. Brocante will be there!
DATELINE: LATE AUGUST 2018
Brocante is having a Warehouse Moving Sale on Friday, August 24 – Sunday, August 26. Each day we will throw open our warehouse doors from 10 – 6 at 3185 Balis Drive, #117, in Baton Rouge.
Items will be marked up to 75% OFF original prices!
Just look at all this stuff that we have to clear out. As Clark would say, "Frankly, my dear, you have too much stuff!" You won't want to miss this sale!
DATELINE: SUMMER 2018
Brocante French Antiques is new to Instagram! We would love to have you follow us as we post new images from our shops and news about upcoming shows.
DATELINE: MARCH 2018
Brocante is on the move! Our same, great show prices will remain in an exciting new Round Top location that you will love. After many years in the same spot during the Round Top antiques shows, we are ready for a change, and Louie is "packed" and ready, too…
This spring, March 24 – April 7, 2018, find us at The Compound. We are excited to be part of this popular venue, which receives well-earned publicity (above inset from Paper City Houston). We will be selling in the Granary Barn (see map below) at the back of The Compound.
This venue offers ample free parking and food on the premises, so you won't be disappointed. Come see us March 24 – April 7 at The Compound!
DATELINE: NOVEMBER 2017
Brocante French Antiques has relocated in Houston! We have just moved – along with all the great designers and dealers at MAI – and you will LOVE our new location. Find us now at MAI within The Houston Design Center, 7026 Old Katy Road, #166, Houston 77024.
Join Brocante's Martha and David Parnell at MAI for the Grand Opening Celebration!
We are now located just 11 minutes away from MAI's old location. To find us, click here or see below:
How about a preview of Brocante's new space? To see more, join us on Tuesday, November 7, in Houston!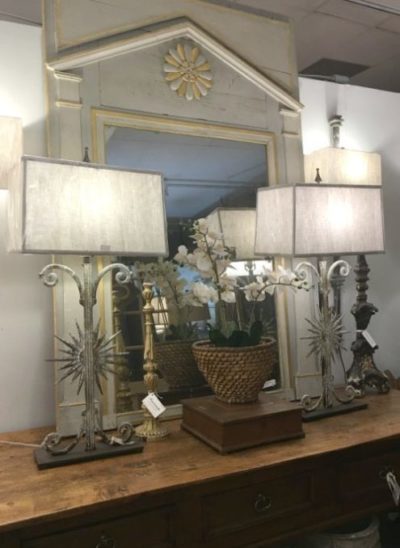 Come see us soon, in Houston or Louisiana!